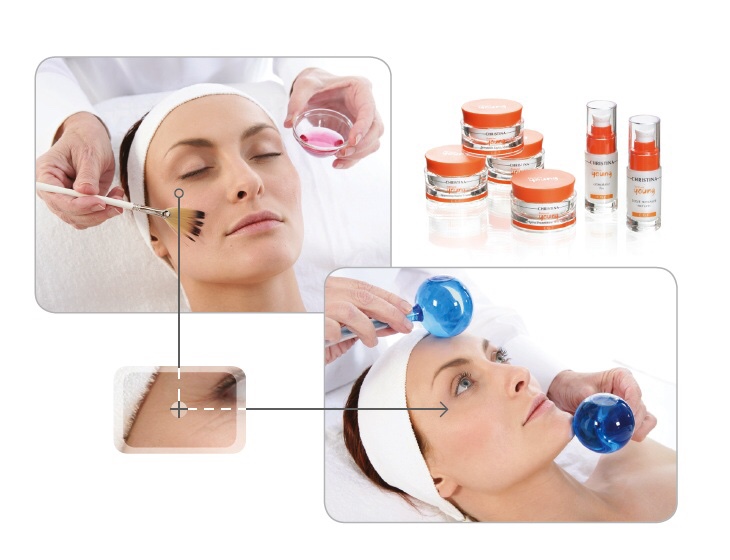 Includes Vine Peel and anti-puffiness eye mask. Forever Young prevents the symptoms of aging skin by protecting internal skin structure and correcting external symptoms of aging skin. A combination of bio peptides, botanical and antioxidants encourage cellular regeneration and skin cell repair. Comprehensive and long lasting Forever Young salon and home use products deliver proven results that protect, rejuvenate and support overall healthy and youthful looking skin.
Youthful Complexion: Why Skin Ages and How to Stop it
Over time skin structure begins to deteriorate and symptoms of aging are clearly visible. Skin cells no longer retain moisture, Collagen fibers weaken and cellular regeneration slows. The body's natural regenerative systems cannot revitalize injured or damaged cells fast enough to maintain skin quality. Forever Young supplements the skin with micro biopeptides that penetrate down to the cellular level. Peptides rebuild tissue, stimulate cell regeneration, improve Collagen biosynthesis and prevent stress-induced damage. Forever Young corrects the internal structure of the skin, preventing premature aging and improving overall skin quality.
Forever Young's immediate and long term benefits include:
• Diminishing and smoothing wrinkles and fine lines
• Promoting cell growth, enhanced cell adhesion and epidermal repair
• Increasing skin hydration to leave skin soft and glowing
• Rebuilding and thickening epidermis
• Firming and tightening skin texture
• Rejuvenating the skin with antioxidants and vitamins
• Strengthening the Collagen and Elastin matrix
• Protecting the skin from harmful UVA/UVB sun rays
• Diminishing hyperpigmentation and evening skin tone
• Improving blood circulation.