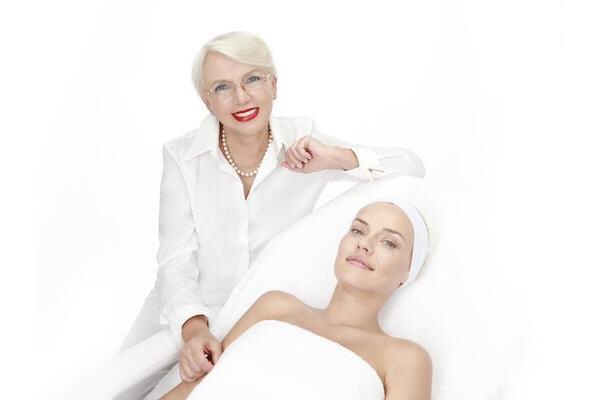 The Christina Company evolved from the personal and professional experience of one esthetician, Christina Miriam Zehavi. 1982 was the turning point when, realizing the need for visible and measurable results, she started developing and manufacturing products that provided solutions to a variety of skin conditions.
Today, Mrs. Zehavi is an inspirational, acclaimed leader in the field of professional cosmetics who shares her impressive experience with peers all around the globe. This unique line of cosmetics helps to defeat old age.
We providing 5 Christina luxurious facials: Silk, Wish, Forever Young, Muse, BioPhyto facial
The anti-age procedure "Silk" from the «CHRISTINA». The Silk anti-aging treatment instantly improves wrinkles, fine lines, and skin laxity. Silk provides smooth and silky skin for special events. A calculated combination of active ingredients, Silk lifts skin and fills in wrinkles without causing irritation. The main active ingredient is a silkworm threads. After a pampering Silk treatment, customers leave the salon looking their best.
The procedure "WISH"— cosmetic procedure from «CHRISTINA» to correct age-related skin changes ( 40+ ). Wish is an innovative anti-aging treatment for mature skin that slows and reverses skin damage. Wish supplements the body's natural anti-aging mechanisms with a rich blend of active ingredients such as advanced bio-peptides and antioxidants.
Forever Young — comprehensive anti-age treatment of «CHRISTINA». Forever Young prevents the symptoms of aging skin by protecting internal skin structure and correcting external symptoms of aging skin. A combination of biopeptides, botanicals and antioxidants encourage cellular regeneration and skin cell repair. It contains polyphenol Resveratrol derived from red grapes. This ingredient also has anti inflammatory, skin-soothing properties that help minimize redness and inflammation. Resveratrol fights against the free radical molecules that creat the effects of aging in skin. And like all antioxidants, it will make your skin brighter and glowier over time.
Muse facial. The Muse facial from «CHRISTINA» combines the pleasant delights of the rose together with award winning scientific formulas. Muse addresses the causes and symptoms of a deteriorating defense barrier from every angle, with a gentle soothing treatment that includes ingredients that detoxify, nourish and rejuvenate the skin. The main unique ingredients are Alp rose stem cells and mushroom extract. Also contains hexapeptie Fe-III, inflax extract and parsley extract.
BioPhyto – A Superior Level of Cellular Performance. BioPhyto is where science meets nature to create products with unique qualities and outstanding results in fighting off damage done to the skin. BioPhyto maximizes the properties of traditional ingredients combined with scientifically developed ones, leading to state-of-the-art products. BioPhyto facial ensure a balanced cellular activity, securing energy recharging, detoxification, rehabilitation and revitalization. The skin's natural defense systems are restored, strengthened and protected against further damage. The skin will appear impressively radiant, vibrant and revitalized.
Christina Facials Available
Silk (Filling Mimic Wrinkles)
$120 •
1 hour 30 min
Wish Facial 40+
$120 •
1 hour 30 min
Muse Facial
$120 •
1 hour 30 min
BioPhyto Facial

$120 •
1 hour 30 min