In 2014, the company Onmacabim developed a new innovative two-phase Acid Enzyme Double Peel. Its unique action is based on a completely new combination of acids, enzymes, Vitamin C, Caviar lime extract and Retinol.
Double Action
Acid peels individually mixed for your skin needs and enzymes combine to work synergistically to get best result.
Caviar Lime
Iis effectively block tyrosinase and perfectly lightening the skin. Tyrosinase is responsible for the first step in melanin production.
Vitamin C
is a potent antioxidant that can neutralize free radicals, aids in your skin's natural regeneration process, which helps your damaged skin cells.
1st Phase of treatment is Acid Peel that will be combined to the patient's individual needs. Acids removes dead cells in the stratum corneum of the skin and stimulates tissue regeneration on the cell level, thereby speeding up the cell renewal process.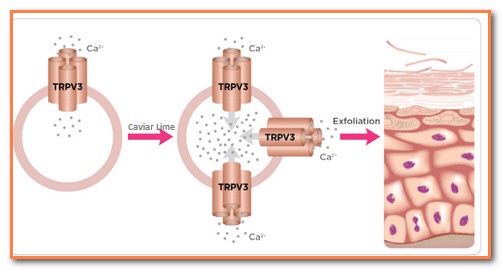 Vitamin C is activated immediately before application, those retaining an effective a highly active stable form of Vitamin C with excellent penetrating abilities. Vitamin C is a potent antioxidant that can neutralize free radicals. The pigment responsible for forming pigmentation called Melanin pigment. The Melanin pigment is synthesized by means of an enzyme called tyrosinase. By application of Enzyme peeling, the causes of forming melanin pigment are blocked. Therefore, the occurrence of melanin pigment that already occurred or might occur will be cleared.
Caviar Lime is a new, natural source of AHAs that activates TRPV3, a keratinocyte transmembrane channel.TRPV3 – Transient receptor potential cation channel is a human gene encoding the protein.The activation of TRPV3 is a new mechanism that can stimulate exfoliation and is much more tolerated by most skin types, resulting in a gentle but effective exfoliation.